My walk-on role on NUMB3RS
Season 5, Episode 2, "The Decoy Effect" aired Friday, October 10, 2008
On July 25, 2008 I was an extra on the CBS TV show NUMB3RS. A once in a lifetime experience that, truthfully, I probably wouldn't want to experience more than once. It was exciting, fun, and exhausting work. The best part was meeting such wonderful, friendly people, especially Patricia Warren, Assistant to Co-Executive Producer, Lewis Abel.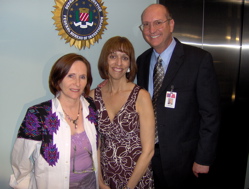 Patricia Warren, Laura, and me (clean shaven for the true FBI look)
The cast and crew were terrific, very friendly and accommodating and some would go out of their way to meet us and show us around. The only thing that I regret is that I didn't get pictures of some of the crew that took such good care of us (my wife, Laura, and me) while we were there, especially Jim and Kano. But then, everybody was working, and it didn't seem appropriate to interrupt them during their work.
Being on the set of NUMB3RS, seeing what actually takes place behind and within the scenes, is quite a learning experience.
I won this walk-on role in a drawing at the CMC3 (California Mathematics Council of Community Colleges) Fall conference in November, 2007, in Monterey, California. It was there that David Krumholtz (Charlie Eppes on the show) was the conference special guest and recipient of an honorary degree from Lake Tahoe Community College. At the closing of the conference he drew two cards for a raffle drawing, and both Sue Broxholm and I won the opportunity described herein. (I was told that Sue's walk-on date was two weeks after mine.)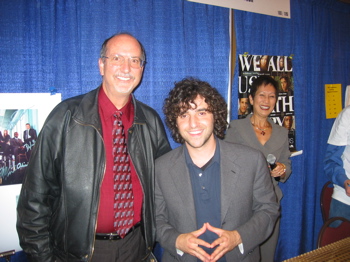 Bob with David Krumholz; Wei-Jen Harrison looks on.
A "walk-on" is, to put it truthfully, an honored "extra." There are no speaking lines and the person may be in the actual production anywhere from 5 to 15 seconds total. I'm just guessing on that; we'll see when the show actually airs, on Friday, October 10, the second episode of Season 5 on CBS. Now that the show has aired, I think I may have been in a total of 3.7 seconds, including the part where only my nose can be seen. Another time, you can see my fingers typing furiously on the keyboard, and another time, I am in the background walking, behind the main scene taking place in the war room. Here is a picture of the actual episode: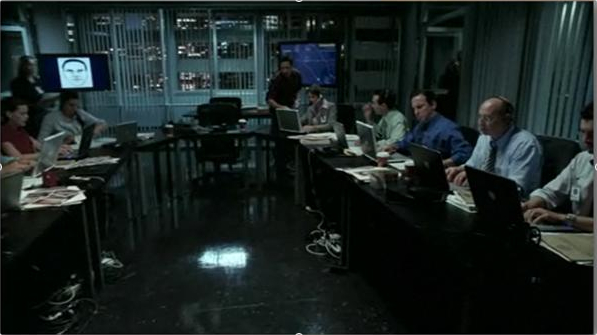 An actual screen shot from the show. I am second from the right.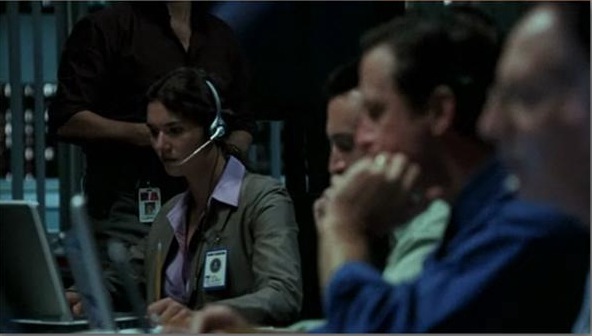 An actual screen shot from the show. A fuzzy nose shot on the far right.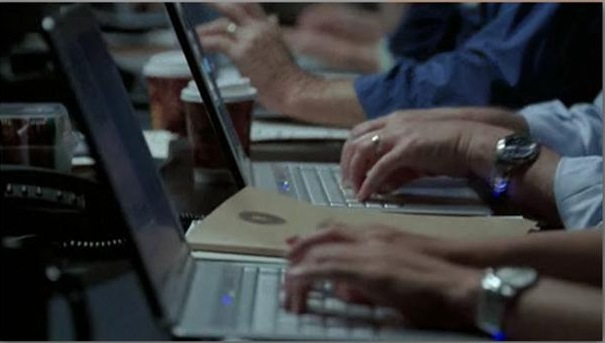 An actual screen shot from the show. My fingers are the second set (from the right).
The more prominent scenes that I was in take place in the "war room" of the FBI headquarters. To shoot the two scenes in which I was present took about 6 hours, including
rehearsal time with the "first team" (the principle actors);
lighting and such with the second team (stand ins for the actors);
run through rehearsals with the extras (called "background" and referred to in the script as "atmosphere);
and the actual shooting of the scene, where the cameras are rolling.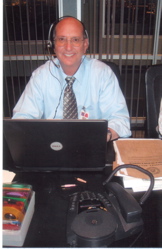 In the war room, ready for action or Solitaire.
Each scene is shot several times, not just because of the occasional mistakes or corrections, but because the director wants several camera angles of the same scene. All told, there might be 12 camera angles in a single scene, but this is done with only two cameras (so they don't get in each other's way and camera view) and this means the actors must say their lines and have good takes several times for each scene.
Extras (background, atmosphere) are also used outside of the war room, which has large glass windows on either side, looking into either the corridor (where extras walk back and forth to good timing) or the "bull pen," where the desk scenes are shot. In the bull pen, some extras sit or stand at a desk, some talk on the phone or flip through files, while others walk back and forth carrying files or having "important" conversations.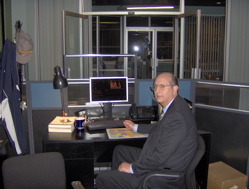 In the bull pen. Do I hear J. Edgar Hoover calling?
The extras, who must be very quiet, often create their own silent dialog and actions to 1) create a realistic scenario of a busy office, and 2) make it more interesting and enjoyable for themselves.
When the war room camera is pointed toward the bull pen, those extras are busy with their various walking/standing/busy-looking tasks. Then there is a "turn-around" where at least one war room camera will shoot toward the corridor side, and a whole new set of extras are needed and the whole scene is acted out once again.
All, of these different shots of a single scene will be blended together by the editing team, creating just a single scene that may actually last just 2 minutes (or less!) of the show. (It usually takes 8 full days of shooting to create an entire episode.)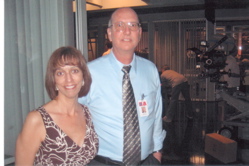 Looking into the war room from the bull pen.
All in all, the set is not a glamorous place and, even though there is a lot of down time, the work can be rather tiring. During down time, the extra dare not interact with the actors, (though as a featured extra, knowing that I couldn't be fired, I took a little liberty with that, but not much).
Many extras (non-union) earn a minimum wage of $8 per hour, and they get paid for a minimum of 8 hours per day, even if they work less than that. If they work more than 8 hours in a day (which is common), their hourly rate jumps to 150% of their normal rate for hours 9-12; they get double time for hours 13-16. If they are required to work more than 16 hours in one day (this is very rare), then they get "golden" time. This is rather extreme because their hourly rate (for each hour beyond 16 hours) is equivalent to their normal daily rate of pay. So, a non-union extra making $8 an hour ($64 a day) will make $64 each hour after 16 hours. (You know there are some good math problems in all of that.) Union extras earn up to$16 per hour ($128 per hour for golden time). Obviously, the producers never want the director to go golden because this is very expensive for the production.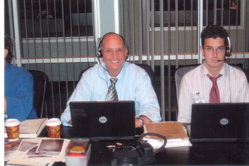 Steve (an extra), on my left, has a better face for this FBI work.
Overall, the experience was quite fun and wonderful to remember. It was interesting to meet some of the actors, who were all very friendly. It was like meeting friends. In fact, Ali Ballard went out of his way to look for me to greet me and shake my hand.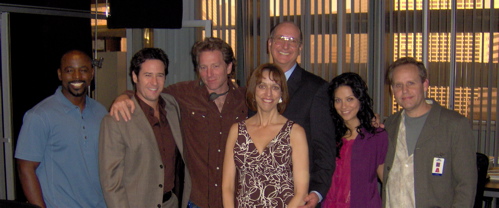 Alimi Ballard, Rob Morrow, director, Laura & Bob, Navi Rawan, and Peter MacNicol
Some of the actors on the show, such as David Krumholtz and Judd Hirsch (Alan Eppes), were not present because they were not in the scenes that were shooting that day. Rob Morrow (Don Eppes), the start of the show, was there from the very beginning (11 AM), but Navi Rawat (Amita) and Peter MacNicol (Larry) showed up about 3 hours later, and Sophina (and new cast member) and Ali Ballard (David) arrived after dinner. Dylan Bruno (Colby) wasn't needed until about 8 PM, so we didn't get him in the group picture.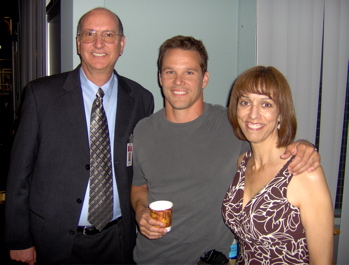 Bob & Laura with Dylan Bruno
As an outside observer, I thought about who the actors were and why they are "the lucky ones" to do what they are doing. After all, they're just reciting lines of script, right? Well, luck may have some role to play in it, but many who make it to the big time, like the cast members of this show, don't just walk in and become stars. Most got on NUMB3RS after having been in other shows with big or small parts (check out their bios). Some may have even been extras at one time, trying to get noticed. There are a lot of talented people trying to make it in this business, but there are only so many positions available.
Yes, it's their looks, too, but if all they have is the look, they won't make it very far. As I witnessed, their work is work! It is sometimes tedious, and can be hard to say the same lines with the same inflection and the same expression 6 or more times each scene, and to say it in a way that maintains the personality of the character that they have created over time. In other words, these are quite talented people, and I was lucky enough to watch them do their job.
In a brief conversation with Peter MacNicol, I quickly learned that he has a funny, dry wit. And Rob Morrow showed his other talent on the set in the war room. A couple of times, while the lighting crew was making adjustments for the new camera angles, Rob sang a song that was in his head, acapella; he has a very good singing voice, and he later told me that he spends a good amount of his down time in his trailer playing his guitar and singing.
In Charlie's office at "Cal Sci."

You do the math!

Charlie's garage. Definitely more

interesting (and cleaner) than mine.
I also enjoyed meeting some of the extras, including Steve, Adrian, Frank, Marcus, Ivonne, and Jai. Marcus and Ivonne are regular extras on NUMB3RS, and the others have been on just a few times (among other shows) or just the first time. I also enjoyed meeting some of the people behind the scenes. Jeff, the 2nd 2nd assistant director (in charge of the extras); Jim Fuller (Key Set Production Assistant); Kano (Set Production Assistant); Kenny (in charge of props); Rosanna (make-up); Arturo (hair styling); and many others that are behind the scenes.
We also met Curt who owns the catering trailer that sits outside of the studio building where the scenes are taking place. That's another thing. Every item of food in Curt's trailer was free to cast and crew, everybody. in addition to Curt's trailer, there was another trailer down the alley that catered breakfast and lunch, again free to each person who works on the show. Lunch was delicious: scallop potatoes like I've never tasted never before, rack of lamb, fresh fish, salads, desserts, fruit, and so on. It was definitely worth the price of admission!
So, would I do it again? Well, I'm not ready to quit my day job, but if I ever did, and moved to Los Angeles ... wait! Moving to Los Angeles is a big enough detractor for me. So no, I guess I never would do it again, at least not on a regular basis, but it's great for a one-time thing. Maybe you could win a raffle drawing, or bid in an open auction like the two people who paid $17,000 at a charity fund raiser to do what I did. I guess if you pay that much, the lunch had better be good, huh?
If you want more information about being an extra in TV or film, check out this website.